GENERAL INFO
Full Name:
Francisco James Muniz IV
Birthday:
December 5, 1985 (which makes him 15)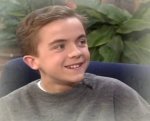 Birthplace:
Woodridge, NJ (some sites say "Ridgewood" but he said "Woodridge" on Leno)
Residence:
Woodridge, NJ and some place in Cali (he said that on Leno too)
School:
He's home schooled! His mom teaches him, and he's said that "it's fun, because I love my mom". How sweet.
Height:
5' 0" (according to one of my articles)
Eye & Hair Color:
I could tell you, or you could just look at the photo on the right.
---
LIFESTYLE
Parents:
Frank (father) and Denise (mother) are separated. Frankie lives with his mother and with . . .
Siblings:
Christina (sister)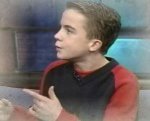 Pets:
He has a cat named Pumpkin. Cute . . . I'm not a cat fan, but cute nonetheless. He also has a dog named Cadillac. I have a fear of dogs. Gee, I guess I'm not really a pet person.
Hobbies:
Well you've most likely heard that he plays golf. In fact, he's been playing since he was five and has a 13 handicap, which is apparently pretty good. Sorry, but as a Canadian, my sporting experience involving balls and sticks is limited to hockey.
Fave Movie:
He liked "Anna and the King" last year. He's also stated that he likes the movie "Goodburger" and I've also read that his fave movie of all time is "CHiPs 99". I used to watch reruns of CHiPs as a kid.
Fave Actor:
Val Kilmer. Maybe Frankie might get to play Batman someday (and make the role decent again).
Fave TV Shows:
Shasta McNasty . . . I've never seen this, but I've heard that it was really good, but they took it off the air or something. This is what I get for living in Canada and not getting all the American channels! He also likes that new drama "Once and Again" . . . or is it "Now and Again". Oh well, something like that.
Fave Music:
According to my sources - Rock/Alternative mostly, but anything but rap is fine (good choice). He's also taken up the drums. My sincere condolences to Denise Muniz.
Fave Food:
He LOVES fast food. "At least five times a week" he says. He just loves hamburgers. Well, I'm Catholic, and it's Lent as I'm writing this, so I haven't eaten meat for almost 40 days!! The day after Easter, I'm piggin' out just like Frankie!
Fave Book:
Dragonwings by Lawrence Yep.
Sports:
Of course he loves golf, and he likes basketball too. He wants to own the L.A. Clippers when he gets older. Clipper fan. Don't ask me why. I'm just kidn. Here in Canada I get two teams to root for and one of them is even worse than the Bulls without MJ, so I'm wholeheartedly dedicated to my Toronto Raptors.
Love Life:
Well he's 14 and this really shouldn't be of much concern right now, but hey - when I was 14, I was interested in almost any girl that passed by . . . well not quite, but almost. Anywho, on the "Ainsley Harriot Show", he said that he currently has his eye on someone, but in a very gentlemanly manner, he declined to name his little love interest. Keep checking the tabloids!
---
CAREER
Humble Beginnings?: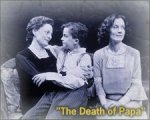 Frankie's first acting role wasn't on TV, in movie's or in commercials, but rather a stage play - "A Christmas Carol" - at the Raliegh Memorial Theatre. He also had a major role in "The Death of Papa".
First Movie Roles:
"My Dog Skip" might be the first movie you've heard about Frankie in, but it's actually his fourth. His credits include "To Dance With Olivia" which starred Louis Gossett Jr., "It Had To Be You" with Natasha Henstridge, and "What the Deaf Man Heard" in which he starred opposite Matthew Modine, James Earl Jones, Claire Boom, Jerry O'Connell and Bernadette Peters. Frankie also has a brief appearance in the movie "Lost and Found" with David Spade and Martin Sheen.
Upcoming Roles:
Well he was great in "My Dog Skip" (haven't seen it yet, but Roger Ebert really liked it) and should have no problem getting future roles. His latest movie, "Miracle in Lane 2", will air on the Disney Channel in May.

Guest TV Appearances:
He's been on hit teen shows like "Sabrina: The Teenage Witch", award-winning sitcoms like "Spin City", and steamy adult shows like "Silk Stalkings".
Recognition:
Though he's only been around for a while, Frankie has earned quite a few awards and nominations already . . .
2001: Golden Globe - Best Actor in a TV Series - Comedy/Musical
2000: Griffoni Film Festival - Best Actor for "My Dog Skip"
2000: Television Critics Association - Outstanding Individual Achievement in Comedy for "Malcolm in the Middle"
* He was beat by his TV mom - Jane Kaczmarek!
2000: Teen Choice Award - Best Actor in a Comedy Series for "Malcolm in the Middle"
2000: Kids Choice Award - Best Rising Star
2000: Young Star Award - Best Actor in a Comedy Series for "Malcolm in the Middle"
2000: Young Star Award - Best Ensemble Cast in a Comedy Series for "Malcolm in the Middle"
2000: Young Star Award - Best Actor in a Movie Drama for "My Dog Skip"
1998: Young Star Award - Best Actor in a Movie Drama for "What the Deaf Man Heard"
1998: Young Artist Award - Best Actor in a TV Movie (age 10 & under) for "What the Deaf Man Heard"

*Wins are highlighted in red.
---
POINTS OF INTEREST

On being smart:
He may not have a 165 IQ, but he is pretty smart. In the first grade, he was doing fourth grade work. Gosh, he's like my twin . . . except we look nothing alike, there's three years age difference, he can have any girl he wants, and he has his own TV show. Otherwise, we're pretty close. (I skipped two grades throughout my schooling).
On being mischievous:
What?! He's the nicest kid on the face of the planet. Although he does admit that when he was in kindergarten, an older kid got him to say some really bad words. Can you imagine 5-year old Frankie telling someone to "F--- off"? (No, but I can see Malcolm doing it!)

On being short:
Frankie used to get picked on a lot at school because of his height. Then he started homeschooling and well, the bullying stopped of course. He has, however, grown seven inches in the past year. Nonetheless, for 14, he's still . . . well . . . shall we say - vertically challenged.
---
HOME | About Frankie | Malcolm in the Middle | Interviews | Gallery
Multimedia | Fun With Frankie | My Thoughts | Links